Dear Nora,
Happy Leap Day! Did you do anything special to celebrate the extra day?
All of your Valentine's dates sound incredibly romantic (including the one with your ex…*ehem*). I don't know how you do it! I can barely keep feelings straight and manage one relationship at a time. Then again, being openly polyamorous maybe takes off some of the pressure of monogamy to be ALL for the other person, and perhaps you don't waste so much energy worrying about it being long-term/permanent, being "the one", all of that. I've done so very little casual dating, so that's really a foreign concept to me, in terms of personal experience. I feel I am naturally inclined to competition and jealousy, and I'm guessing that mixes with dating multiple people like oil mixes with water.
So romantic dates with the ex, eh? That can't be easy. Do you two work to maintain a friendship? How is that? I always thought that would be me. That I would be someone who was friends with my ex if I ever had one. And then, when that became a reality, I realized that our friendship had very little to build on—yes we had years of love and nostalgia and growth together, but it had become so watered down with her guilt and my mistrust of her in the end. Maybe someday we will regain some of what we lost. But for now I think it's for the best this way.
I envy your voice of instinct and your ability to listen to it. That is something that often comes out garbled for me, due to my compulsion to people-please—I allow the voices of others to drown out my own. But the voice is there, and it's my job to listen to it. "People will lie to you, you will lie to yourself. But in the depths of consciousness there's still that compass of self protection that will continue to point to the north. Follow the arrow." I really like that, Nora.
I found comfort and support in friends and family after the breakup. Making trips to visit good friends and lots of long phone calls and letters and tears. But everyone was as stunned as I was, and hadn't really ever seen me like this before. I think they weren't quite sure what to do with me. After thinking "it will be fine, I'm fine, I'm fine…" I realized I was not fine after all, and there was a big 'ole crash and burn. Within three months of the breakup my plans to move to Portland were set and I couldn't get away from Indiana fast enough.
Elise and I are approaching one year together. I wish I could say it was smooth sailing and the perfect light of a sunrise coming up on the horizon of our lives. But it is not that. It is hard. It is work. So in other words, it's real life. We are living together, and throwing the "m" word around more and more frequently. Timing landed us in the same place at the same time, and in the same general stage of life—looking for someone to walk side-by-side with, someone to "adult" with, be ourselves with, grow with, enjoy both the mundane and the exciting with. Someone to hold onto through the pain. We had a very instant and deep connection and it sucked us both in—and now it's almost a year later. And as the dust of this whirlwind has settled, I think we're both taking a deep breath and looking around at where we've landed and really evaluating where this is going. Not just moving forward to move forward. But doing so only if we are both 100% in it, and committed to the not just the joy, but the hard work of a long-term partnership.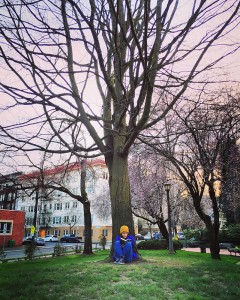 It's made me really think about why we "do" relationships. Sure, the initial part is easy to explain. The attraction, the excitement, the intrigue and mystery and the game. But what does the long term offer? A lot of that initial stuff fades, and in the end you just have this very real, imperfect person next to you every day. And you choose, daily, whether to let them in. And you choose daily to love them and what to give and take. Finding the balance of what to compromise on and what to fight for. And sometimes it's extremely rewarding. And sometimes it requires much of you. And this person is like your best friend, and your lover, and your family all rolled into one. Someone who knows your best and your worst and daily ups and downs, from all sides. There is a deep value in that, and also a terrifying vulnerability.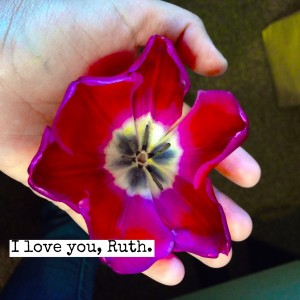 I found a really lovely quote the other day, written by Edith Wharton (one of my all-time favorite authors) to a good friend in a letter. It's about how to be happy & fulfilled, whether alone or with someone else:
"I believe I know the only cure, which is to make one's center of life inside of one's self, not selfishly or excludingly, but with a kind of unassailable serenity—to decorate one's inner house so richly that one is content there, glad to welcome anyone who wants to come and stay, but happy all the same when one is inevitably alone."
Here's to decorating your inner house,
Ruth