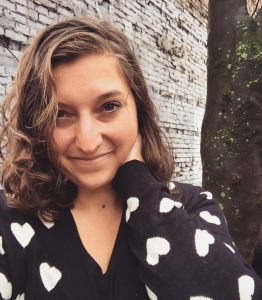 Ruth is a lesbian who lives in Portland, OR
Originally from Indiana, Ruth was raised in conservative Christianity, and spent most of her childhood confessing very minor sins to Jesus. Her other pastimes included reading and playing with her three siblings. She attended a private Christian university in hopes of meeting a godly man, and instead fell in love with a girl in her dorm.
Now, almost 10 years later, she is a certified flannel-wearing lesbian, strolling the streets of Portland and enjoying the accepting culture, the beautiful Pacific Northwest scenery, and local, organic…well… everything.
She spends her time squeezing her cat, Magpie, and hanging out with old lady lesbians in book club and choir. Ever the optimist and hopeless romantic, she fell head over heals for her partner Jessie on a beautiful summer night under a big Oregon sky and hasn't looked back since.
A writer at heart, and graphic designer by day, she is excited to be a part of Letters of the Rainbow, because this is exactly the type of thing she would have been searching for 11 years ago when she was just starting to come out.