Dear Nora,
Happy New Year! I have said Thanksgiving is my favorite holiday, but I think it is actually New Year. I love fresh starts, as clean as the snow falling on the mountain. I love the reminder the life is cyclical and there is always opportunity to grow, and start back at the beginning and make fresh tracks.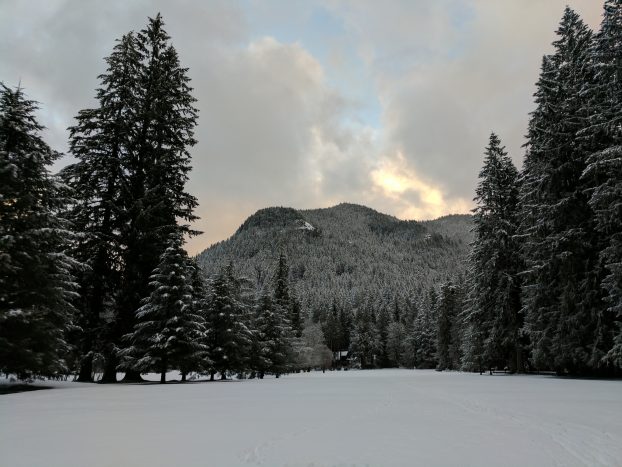 I spent the Christmas holiday with Lily and her family in Florida, and New Years with her and some friends in a cabin on snowy Mt. Hood. How do I feel about things getting more official and serious? Higher stakes are scary. Holding the heart of someone who's never entrusted their heart to anyone is an honor, but is scary too–even though I remind myself she's responsible for herself just as much as anyone. Heartbreak is an exercise that I believe has ultimately made my heart stronger, and if I were to go through it again I already know there is light at the end of that tunnel–but I certainly didn't know that the first time I went through it. Honestly I think for me the scariest part is that one year ago, I was in the midwest meeting Elise's parents on Christmas Day. What scares me is the way I go into things with so much excitement, so much hope, and then one year later I'm sitting around the Christmas tree with Lily's lovely family in Florida, opening gifts from her mother and drinking bloody marys. Reflecting on where things were last year has been sobering to me. I feel like I am just a tiny little fool in this huge universe who thinks I know everything, but then moments like this remind me how small and not in control I am. It's reminded me to give these moments the gravity they deserve.
All I can do is be true to myself, follow my gut, keep moving forward and humble myself with the knowledge that I can't know what's going to happen.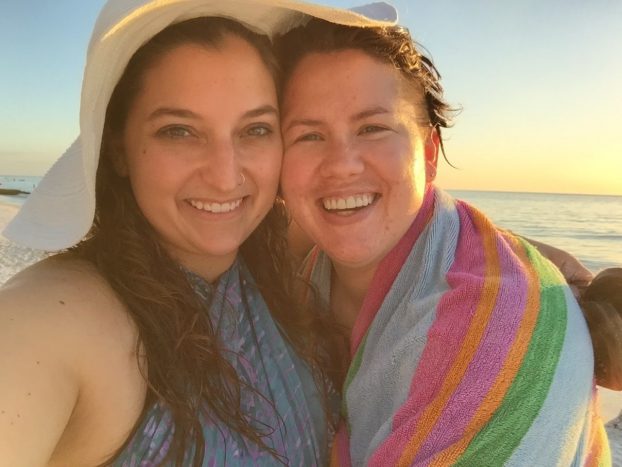 It's also reminded me to appreciate it. As serious as all that is, the break in Florida with Lily and her family was so good, and lighthearted and fun and refreshing. It felt like the first time that the parents of the girl I've been dating have truly welcomed me into their home, in a way that I felt wanted not just tolerated. I had our blog conversations on my mind as I was there, as Lily's parents are supporters of Trump. Ugh. Lily wasn't quite sure how they would handle meeting a girlfriend, but they pleasantly surprised both of us. I think it was good for her too, to be herself in front of them in a new way, to see them in a new way.
Hearing your story of Cory and her mom boiled my blood. I really have no words… I know it sounds so cliché, but truly Nora–you deserve better. No one can help if they're born to racist close-minded WASPy parents, but for her not to defend the girl she loves to that kind of bigotry. The fact she couldn't even justify her actions to you? Wouldn't even talk to you over the phone? I kind of feel sorry for her, she's going to allow herself to remain under her mother's thumb as long as the money matters, as long as she can't be honest about who she really is to her family. That girl has some battles to fight. And those battles our no longer yours to share because she allowed you to be a casualty in them. I'm so sorry that it's ended, and especially in that way. You said, "I should know better than to feel this way", but try your best to allow your feelings to exist without assigning judgment to them. You can't expect those hopes to die overnight, especially after you've fostered them so carefully for so long.
It would be heartbreaking for you to lose Abby over this. I don't know your relationship with her or the dynamic with the three of you. But it's hard to imagine, if she knows the whole situation and knows you well, that she would choose Cory's side. There are few things stronger than close friendships, and it sounds like you and Abby have something really good.
With the new year has come an irresistible urge to take a step back and look at my life and growth over the past year, and to move forward in a mindful way. Lately I've been wanting to hunker down, burrow in my little studio and work on myself.
I want to build a cocoon around myself so I can just focus on the transformation into the person I feel I am becoming.
To write, to read, to practice mediation and yoga and go swim laps. Having a cat isn't helping motivate me to leave my apartment either. Nora, I fucking love this little ball of fur so much! She is seriously like medicine for my soul. Her goofiness getting tangled in her toys, her playfulness running around, her demands for lovins and cuddles, how she headbutts my head with her head and trusts me and lays next to me or sits on my lap. As you might guess, all this nesting desire is not necessarily congruent with a relationship. I think me expressing some of my desire to be home more or do stuff alone has made Lily feel bad in some ways, but she is as understanding as I could ask for and wants to help work towards that balance, for herself too. I feel like I really have never mastered that in a relationship, but I am working on it.
I've never been so determined to take good care of something as I am to take care of Magpie. As I was researching in detail what types of foods are best for her and what she needs in her little cat diet, I had a moment of realization of why the fuck don't I take this much care of myself? I have been sloppy with how I treat my body lately, not really noticing what I'm eating, not listening to what it needs. Thinking mean things about it. I have PCOS – a fairly common condition in women that can cause weight gain through extra insulin production and hormonal imbalances that throw all sorts of things out of whack. Regulating my glucose, even on a basic level–just eating things not high in sugar, and getting some regular exercise go a long way to helping my body help itself. How can I say I love myself and if I'm not loving and caring for my body?
My theme moving into 2017 is mindfulness. I want to live an examined life in order to fully appreciate it, but also to not be careless with the choices I make.
I'm so excited for you and your new OKC boos! Slow is good. Cute dates are good. Girls who are actually into girls are good. Can't wait to see where those may go and I'm proud of you for seeking out new connections.
I can't imagine how torturous it is waiting on word from med school, so instead of talking about that, I'm going to ask about your plan B that lands you in Philadelphia? I'm excited for you to be able to return to the east coast. Do you already know people in Philly? What is in Philly that you're excited about? Is there much of a queer scene there?
Here's to longer days and fresh tracks in 2017.
Love, Ruth