Dear Ruth:
It took you a month to reply to me and I am responding in  a week  because I was waiting anxiously for your letter. Thank you for writing to me and please don't torture me like this.
First of all, I totally fell for the joke. I had started texting my guerrilla friends in the Colombian Jungle and they were getting a militia together to rescue you from moving in with anyone. I had to cancel the entire operation but I am so relieved it was not true. It makes me so happy you and Lily are growing together. You are going to meet the parents so things are getting pretty serious.
How do you feel about meeting the parents and how official that makes it?
CAT!!!!!!!!!
I want Magpie in my arms right now! She's so beautiful and huggable. It is amazing you found a new place and a new companion in so little time. It feels like a final step from moving on from Elise and that relationship. I love that you are doing all the things for you WHILE being in a relationship. Those two things should not be mutually exclusive but they often are.
I envy what you are experiencing right now with setting roots unto a place. Kind of settling in Portland and creating a community independent of your partner or family. I want to do that too. I want to move to Philadelphia and go to medical school, make the place my home and extend my roots. Unfortunately, I am still sitting in the silence and have only heard more Nos. I am suffering hard by what seems to be the death of my dreams. However, I am making Plan Bs that would land me in Philadelphia. I really want to be closer to my people.
.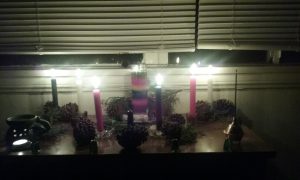 Last week was the Winter Solstice. It is the darkest day of the year. The longest night. I had a small ritual as I pondered on the similarities between what nature is experiencing vs what is happening with my life. I have been in such dark places this year. So many break ups, so much abandonment, loneliness, tears, depression. But the night has to come to an end and from now end the days will start lengthening giving way into the summer. That is me. I already feel the waves of  improvement in a lot of areas, things are going to get better and who knows, maybe I even get into medical school.
When it comes to our country's situation, we are going to have to agree to disagree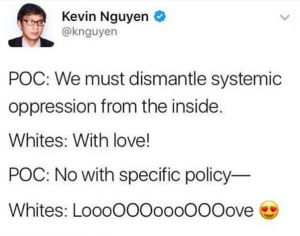 . I think it's time to riot, set shit on fire, BURN THE PATRIARCHY, make noise. We will be heard. We have to organize and move. History has proved that, unfortunately, revolutions require violence. The Black community has had to FIGHT for every single thing they ever got. So in my opinion, this is not the time to stay silent and send  thoughts and prayers. It is the time for action, and if that action requires rioting, let's motherfucking riot.

Coming from Indiana, your experience is completely different than mine. You care about the Midwest and you experienced first hand how differently they live. It is impossible for me to empathize with entire states of people who decided a rapist racist should be the leader. Who have entrusted our country to this monster and now entire communities have to live in fear. If someone does not have fear under this presidency, they have privilege. It's as simple as that.
To answer your gazillion questions, I am feeling better. New meds kicking in well and they help me stay motivated. I have been knitting like crazy and actually went to a fair to sell my hats. Even my etsy store is populated with whatever I did not sell. I have been productive and doing some great self care. Dog sitting is going well, the holidays help a lot and I have had several little fuckers come stay with me. I am still seeing Key and I have met two lovely ladies from okc, karina and Sandra (not their real names).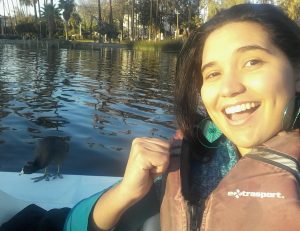 Karina is a native Angelina who works with plants. Sandra is from San Francisco, she's Colombian and Venezuelan and works with youth. I am taking it slow with both of them but I am happy where we are, getting to know each other, enjoying each other's company. And the company of this bird who crashed one of my dates.
Cory and I went from Limbo to Hell. And the whole thing burned in flames. I was planning a trip to see her on her birthday, she was supposed to help me pay for it (just because I wanted to feel like she was involved). A week prior to her birthday, according to Cory (several people have pointed out she could be lying) her mother showed up in her school and told her that if she saw me she would be cut off from her family. Cory had to make a decision and she chose her family. I don't think she understands parents make those threats to manipulate their kids until they no longer can. But Cory was not open to negotiation or risking making her mother upset. I really think it's about money and not wanting to be cut off financially. But that's just my opinion. She said she could not justify me even to herself and refused to talk on the phone. Her mother hates me because she thinks I turned her gay and I am brown. YES. SHE HATES ME FOR THE COLOR OF MY SKIN. How ridiculous is that.
I wish I could say I am over the whole thing but I love this person so much more than I should. It hurts that she wouldn't fight for me, it hurts that her being financially comfortable is more important than having me in her life, it hurts that she would not defend me against a racist, especially since she's related to the racist, it hurts that she can just let it go. Just like that. Bye Nora.
It hurts everyday. I really thought she was it.
I am allowing myself to heal. I know I have to let go of her, and I am trying, but is hard. I secretly hope for a miracle. I have this crazy fantasy in which I get home from work and she's in my front porch with flowers telling me she worked it out with her family and is ready to make a commitment. Imagine that. Yeah, that's not happening.
But that is where my heart has been, reaching for the impossible, resisting acceptance, insisting that our love was real and that it will survive. I should know better than to feel this way, but I don't. I was operating under the assumption that she was in my life long term. I want to at least be her friend, especially since we have my best friend Abby in common and she hates being in the middle of it all. I do not want to lose Abby over this. I already lost one significant person.
That is the biggest source of anxiety for me right now. And my school plans, that's a big stressor too.
I spent Christmas surrounded by dogs, watching Christmas movies and eating Pizza. We ordered deep dish all the way from Chicago and I cannot wait. Still debating what New Year's is going to look like.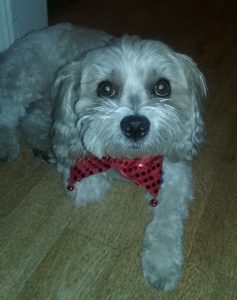 I hope you find time to write while traveling and that I don't have to wait another month.
Love,
Nora
PS: Got this on the mail. Made my night, I love presents in the mail.