Dear Ruth:
Heads up: this will be long. There will be lots of pictures.

I am so glad to hear we had the same Fourth of July. I fell asleep early to the sound of fireworks. But during the day I biked and read in the park with the baby. Pretty low key.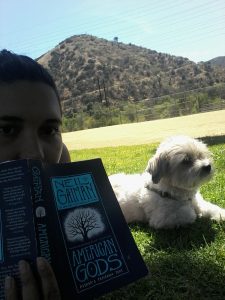 I am also happy to hear about your smudging ritual. Little witch tip: Sage does not only take away negative energies. It erases everything. Your house is now a blank slate to be replaced with the energy of your choosing. So choose wisely. Light candles (mind the colors) and burn incense after. Here's a pic of how crazy I go when I go to the magick store. And my altar, which is popping!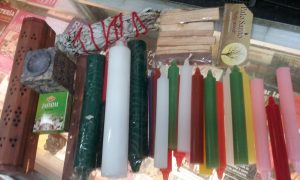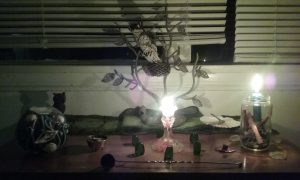 I have a lot of mental stirring going on. I feel like this year has been a hurricane and I am left with the aftermath and the clean up. In chronological order: need to change jobs, my roommate threatened to evict me, broke up with Jayne (but stayed friends), put a friend in the hospital for being suicidal, had to find a new roommate, realized Trace was not for me, broke up with Trace (those were two different events about a month apart), return to volunteering (where Trace works, we dont ever interact though but it was a hard decision to make), went on road trip, saw Cory, Jayne decided she is too in love with me to be friends, I curse out Jayne for being a bad friend, Cory leaves, I am alone. No trace, no Jayne, no Cory. Just me and Toby. Per usual.
My days have been full of thoughts. I just play with my puzzles and contemplate loneliness and how familiar it feels.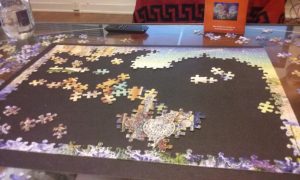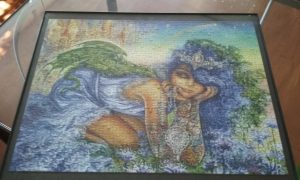 Durin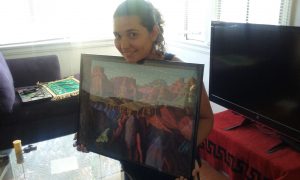 g the trip, I had a conversation with Cory about how much someone's intentions (vs execution) are worth.  I have always been of the idea that actions speak louder than words and what you did and what you meant to do are two completely separate things. This is changing for me. There's a song by Alejandro Sanz that says "Reclamame nuestra ilusión, exigeme el valor que tiene la intención" Basically, the hopes and the illusions you build with yourself and someone else have a certain value, what you sought to accomplish in any relationship is worth something (even if little), regardless how disastrous the execution.
I mentioned last time that I am working on forgiving myself and forgiving others. Here's where this process has taken me: to acknowledge my intentions honestly and to accept the intentions of others as true. It sucks though, so hard. Especially from this place of loneliness where I am sitting right now. I have to accept that my ex wanted to grow professionally, she did not mean to abandon me. But she did. I am yet to forgive her for it TWO YEARS LATER I resent her. It has to end. I have to accept Trace wanted company, they deserved a chance to try, they did not want to hurt me.
Given a choice they would choose to fall in love with me because  :::flips hair:: I am so wonderful. But they are damaged and my magic is not for the faint of heart. I have to forgive their feeble attempt at loving me.
Jayne wanted to be friends with me, but it hurts her and now I feel betrayed and lied to because I really did think she saw me as a friend. But she did not mean to lie to me. She just could not do it. I have to forgive her, and let her go. But I miss Jayne the most. I miss her every day. I had this secret fantasy that we were going to be really close friends and then in a year or so when we are ready, get back together and live happily ever after. NOPE. She left.
Forgiving others and accepting their intentions as pure, takes me to forgive myself and accept my own. That I want to have partners, that I understand now why people get married and stay in less than ideal relationships: Being alone sucks. That I am too demanding for my own good, unwilling to compromise, unable to settle. I need to forgive myself for letting people go, for sometimes being the one that leaves, the one that ends it. For pouring my heart into the ones I love and not keeping anything to myself. For having poor boundaries.
And this takes me to you: BOUNDARIES. Let me say that again:
B-O-U-N-D-A-R-I-E-S
You my dear Ruth, are a Mrs. Softee. It was so refreshing to read your last letter and to know that people like you still exist. You are a specie in danger of extinction. And it is not martyrdom or Ghandiness. You sincerely get pleasure from building others up. If It is really easy for a self-centered bitch like myself to get lost in relationships, I can only imagine how natural it must feel to your softee ass to just live in function of another. BUT You cannot become a sum of someone else's wants. I low-key judged you real hard when you gave away your cat for Elise. (WTF bro.. Real cat > pussy).
Your gifts, your light you MUST let it shine. Just make sure you are still the one that is carrying it. If you simply hand your light to someone else, they will walk away with the torch and you will be left in the dark. In order to make the best of your light you have to be the one to hold it, your loved ones must stand near you to be warmed and guided by it. This is your fire to share with others not give away. This is what I mean by boundaries: you get to embrace yourself as the giver, developer, promoter, compassionate, lover that you are while making sure you develop, promote, empathize with and love yourself first.
Fuck apologizing to people for needing alone time and writing long ass letters. Try replacing "Sorry" for "Thank you" and you will see how there's nothing to be ashamed of. Instead of "Sorry I dont want to go out" use "thank you for giving me space" There's a more positive connotation while promoting yourself and showing the other person appreciation.
Friends with Elise? Haha good luck with that. I am a little mad at her for putting you down for being such a giver. I am sure she was not complaining when you were giving things up for her. I have said before and I will say it again: DO NOT DATE COLOMBIAN WOMEN. We are an addictive sweet poison.
~END UNSOLICITED ADVICE~
About Cory: Ugh I love her. But I did not say I found her condescending. I found calling her Blondie condescending so I switched to Cory (re-read). Here is the story in a nutshell: I met her while in an open relationship with my ex. We had a summer thing, or what was meant to be a summer thing. Then I moved to Cali and tried to go on with my life, while she (who was 19 at the time) tried to go on with hers. Did not work. I was her first girl and the coming out process was too hard for her to deal with alone. Then we realized we were in love but I was in California in a relationship. Everything went to hell. We have gone through periods of talking daily and months of not talking. But every time we are near each other, every given opportunity, we meet up.
I have been miserable about this bond over and over because it seems so impossible due to the distance. But she has always been hopeful that I will go back east and we could be together. I do not think I have ever seen anyone been so sincerely in love with me. I have tried to let this go, to let it die, to let it wither. Nothing. Still alive as ever.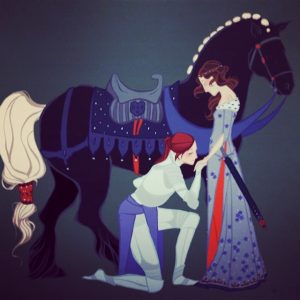 Trust me Ruth, I understand you. I am one damaged cynical motherfucker but I understand this dream of yours of having Prince Charming come on her white horse and sweep you off your feet. I understand your need to believe that she's out there, searching for you while you are in Portland, waiting for her. I want that too.
But not now. This is the time for us to learn boundaries, to take care of ourselves, our dreams, our bodies. To re-evaluate our needs and desires, to get ready for the big 30 and welcome the next decade as WOMEN. Girlhood is over, youth is wasted on the young.
I love you and I hope you are having a great summer.
Love,
Nora
PS. I am doing a book drive for the kids in my block. They are children of Hispanic immigrants who cannot afford camp and their parents work too much for them to be taken to the library. Do you know anyone who would want to donate books grades 1-8? I also have an amazon wishlist, where you can purchase the and send them my way. Really hoping someone gets Wimpy kid because they really really want those.