Dear Nora,
I cannot tell if we are the best people to counsel each other right now, or the worst. As I sit here in Portland, tearing up in a coffee shop listening to sad songs that remind me of everything I've lost and watching adorable in-love lesbian couples pass by.
I feel your pain so much, my dear. It jumps right off of the screen and I just want to cry with you and give you a hug and some fried chicken and binge watch something mind-numbingly stupid while we talk about being members of the forever alone club. My panicked heart is in complete lockdown and focused on one thing: keeping her in my life. As we've still been living together after breaking up, it's all been a bit surreal, still calling each other babe, making her dinner, still having sex. She'll make jokes about how she will make out with other people, and I'll just feel a confused and somewhat detached jumble of feelings. And then sometimes, no feelings at all. Lots of numbness lately, actually. The full pain will follow, I suspect. But right now she's still here, and still kind of feels like mine.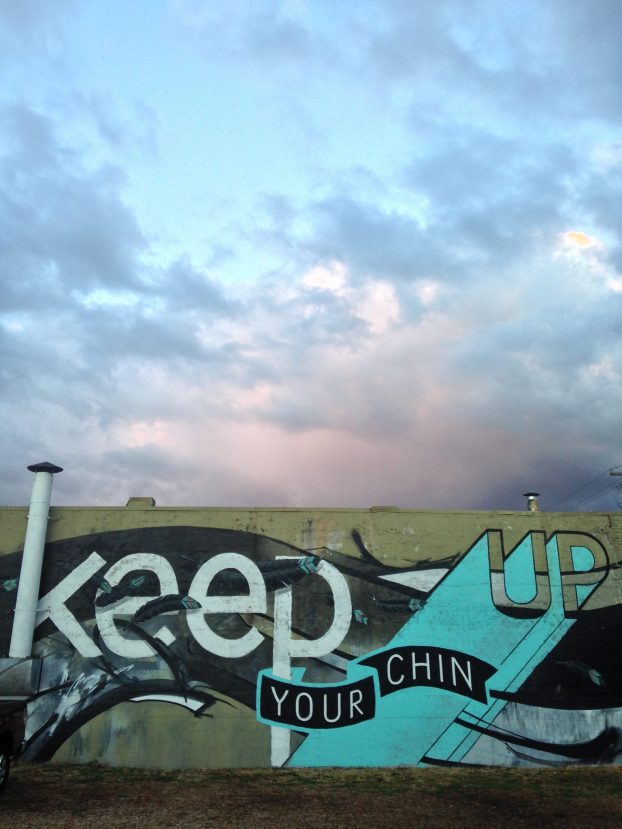 I could go on and on about the reasons why I fell in love with her. But I realized that being in love isn't enough. It isn't the all-inclusive perfect formula for making it work with anyone. How disheartening is that? As rare as it is to find someone who you mutually fall in love with, and then that's still not a guarantee? WTF.
I did, and didn't see it coming. Didn't, because I wasn't quite ready to "give up", but did, because a series of realizations had added up over the last few months, building a kind of unease. My heart was in denial, but my gut was giving me hints.
In the end, it was just a collection of ways in which we were mis-matched for long term partnership. We were both happy in a lot of ways, and could have carried on that way for a while… but we're both looking for that person, the companion-for-life person. Past the one year mark, talking about next steps… the more permanent decision of whether this person could be that was looming and we were both having more doubts.
We spoke each other's love languages poorly. She wanted someone who just let her be, completely unconstrained and unencumbered. I wanted to dote and love on her and be doted on and adored, but that felt suffocating to her. And likewise, her just "letting me be" felt cold to me and made me insecure and anxious. We both did our best to stretch, but it was just such a far reach, I don't know if we'd ever comfortably live there enough to satisfy the other person like we both deserve.
Our communication was mis-matched. She craved instantaneous, verbal, clearly-stated thoughts and feelings expressed on demand. I needed time and space and processing and writing and thinking and coming back in hours and days and weeks with responses. Both of us felt frustrated and misunderstood.
She was losing interest in me, pulling back and making me less of a priority and I was growing proportionally anxious and insecure and holding on more tightly. She was more satisfied to just have a partner who was "there" and secure for long term. I want that, yes, but also I need my partner to remain interested in me in a natural and unforced way.
I felt challenged constantly by her, but almost never just "at rest". She felt at rest with me, but seldom challenged. Neither is bad. But I need to feel at rest with my partner more than challenged. Life will challenge me enough.
She is 95% extrovert, I am 66% introvert… and our pace of living is different. That is something we could have made do with and worked on more, but I'll admit it could be exhausting for me. I have trouble already with making time for myself, but being with someone who needs people around almost constantly was making it even harder for me to balance that, when combined with my people pleasing tendencies. We both concluded we probably need someone a little bit closer to our end of the spectrum.
She wants to move somewhere else, chances are it will be somewhere more southern, and less west coast, and I didn't want to end up somewhere I don't want to be and resent her for it someday.
She would generally refer to traits that I love about myself, like kindness, empathy, compassion, putting others first, with less than high esteem. It's not that she doesn't value those things… she just values them less than other things. Essentially the traits she valued the most were things I was much weaker in (fighting for yourself, meeting your own needs first, being brave, speaking up…etc.), but it did make it harder for me to be proud of those things I was strong in, because I wanted to please her.
We disagreed on this statement: People, generally speaking, are doing the best they can in this life. (I agree with that, she does not.) That belief or non-belief had a big impact on how we handled and viewed people in various situations.
I am sensitive, oh-so-sensitive and big hearted and I cry often and feel things deeply and don't have a very tough outer shell. She is sensitive in her own way, but has a tough outer shell and really values tough-love and no-frills approaches. This would often result in hurt feelings on my end, and annoyance on hers.
I need my partner to be my best friend, among other things. Something, probably just the overall expanse of these differences, was holding us both back from feeling like the other person "got" us in the way we needed. Just on different pages more often than not.
Those probably seem like 10 really obvious things, but when you're in love with each other, you can excuse most of that for a while, and some of it is only apparent over time. But the combination of all of it that brought us both to the same undesirable conclusion.
Even now, it's helpful writing these things out, because I forget them when I'm holding her little hand in mine, and feeling her heart beating. All I can think in those moments is that I want to keep her. The only thing that's been keeping me resolved over the last week or so is that internal confirmation I felt the moment we decided it—even as heartbreak rushed in—the anxiety left me that had built up in the indecision and doubt.
She is moving out in about a week. And then I will be all alone in our apartment. My apartment.
Sometimes all you can do is live something out, give it the time it is worthy of and get the answers you are seeking. I don't think I would have felt satisfied in any way if I had called things off at my first sign of doubt. Elise was worth it to me to try, and then try again, and then to try something else and hold on and wait it out and talk it out and then try again. Trace was worth it to you to hold on, to give it time, to see if things would change. Immense pain demands the need to blame someone for causing it. And it's all too easy to turn that blame inward. Would you really have done anything differently? Perhaps you just needed to reach the tipping point where this was no longer true: The only thing more painful that the emotional imbalance would be to not have them in my life at all. 
Unrequited love is surely the most merciless of all the loves. It is like the strongest drug, and completely unreasonable when it comes to self-lectures on the inevitable heartbreak of falling in love with someone who's not in love with you. I'm so sorry you had to experience that, my dear. For the record, I think breaking up with someone for the reason that "they are not in love with me" is 100% legitimate.
Breaking up isn't a punishment, it's about recognizing a truth that brings awareness that you aren't the best person for each other.
You said a lot of things in your last letter like "this imbalance hurts", "It pains me", "makes me insecure". You should never have to hope that someone will maybe someday realize you're fucking wonderful. You are. You are standing in front of them, being your amazing, magical self, and if they can't see that, then it is ok to ask them to step aside and let someone else enter your life who will see it. In the words of Cheryl Strayed: "You cannot convince people to love you. This is an absolute rule. No one will ever give you love because you want him or her to give it. Real love moves freely in both directions. Don't waste your time on anything else." It sounds harsh, but it also brings a type of relief. To know something is out of your control takes the pressure off sometimes. I also know you already know this. (P.S. I highly recommend reading Tiny Beautiful Things during this period of pain. It is truth, in a raw but beautiful form, hopeful and heartbreaking and a perfect companion during big life shifts when you're regaining footing.)
I thought your answer "because I am not in love with my friends" was a good one. And it's got me thinking a lot. How do I fall out of love with her Nora? Because I want so desperately for us to be friends. Part of me thinks we could potentially be better suited as friends than we were as partners. Obviously I know for sure that living together, having sex and acting like a couple is not helping us get to that point. I think probably the answer is time and space and both of us just doing our own thing… but I don't like it.
Here's the truth that's been staring me in the face: I hide in relationships. They're a comfortable place for me. I find an absolutely dazzling star of a human and attach myself to her. And I can let her sparkle, and I can focus on her needs, and I can stand in the shadows admiring her. But now, there's nowhere to hide—nothing to take the attention off of myself and my life. I've been in long-term monogamous relationships for most of the last 8 or 9 years, essentially all of my 20s. Being alone for a while sounds so uncomfortable, because I will have to learn to shine all on my own. And when I look around for someone to take care of, I'll see only myself. No more shrinking into corners, no more using a relationship as an excuse for why I don't do x, y and z. I need to be captain of my soul.
Your friend, Ruth
P.S. I also definitely need to start a fairy garden, yours is so lovely. Except I think perhaps mine should be a miniature elephant sanctuary… I will keep you updated.