Dear Ruth, 
Guess who decided to get cancer?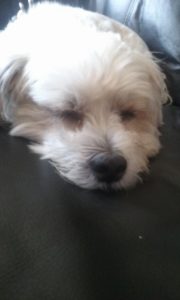 Can you belive this mofo? He's bouncing on me. 
A couple of weeks ago I felt a small lump on his neck. He was not feeling ill at all but the lumps were not going away. I made a vet appointment and had him tested for the origin of the  problem. 
Toby has lymphoma and the prognosis isn't good. I cannot afford chemotherapy and I would not really put him through just to extend his life for a couple of months. He's on some palliative medications and he will not be in pain. It should improve his quality of life but not really extend it much. 
They give him three to twelve weeks. I wish I could tell you how devastated I am. 
I sat here yesterday experiencing all five stages of grief, simultaneously. Today, I got busy and forgot for a couple of hours. But the sadness he comes back in waves and returns me to reality.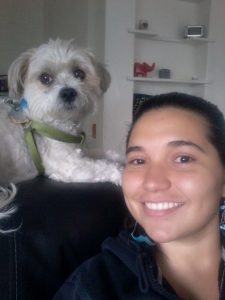 I am going to lose my baby. I have to put him to sleep at some point. A part of me, wants to find him dead at some point instead of having to be the one to pull the trigger. 
This is so unfair. He's only 5 years old. 
My heart is mourning. 
Love, 
Nora
PS. This is us last Sunday reading Spanish poems. He understands me.