Dear Ruth,
The pictures of the tree house are EPIC. They're the most reblogged post in our tumblr page.
Thank you for taking my craziness into consideration and writing such a lengthy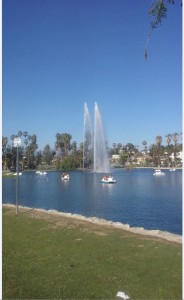 and educational reply to my ranting. Things got worse before they got better. I had a panic attack at work and the boyfriend had to come pick me up. Well, they did not have to. They chose to pick me up because I mentioned I did not feel safe going home,I did not want to be unsupervised. When I get panic attacks I get kind of paranoid and I think everything is out to get me. Oh, and I cannot stop crying. It's not fun and it's not pretty. I am also not crazy.
I am gratefully doing better and sat with myself in the park the other day to write some things down and prioritize. I have way too much in my plate right now. The stress level is escalating and it will only get higher if I want to apply to school this summer. I really need to come up with a game plan.
When it comes to mental health, it is very important to have the right support and the right strategy. "Winging it" is a really really really bad plan.
I am glad Elise has you as support and if you ever not know how to deal with it, feel free to ask away.
In the love life, I am looking to date but have not met anyone that catches my eye lately. I am very in love with Trace and I am enjoying it. Did I mention Trace is agender? They recently changed their pronouns to they/them/theirs and I am adjusting to it. We settled for the title "boyfriend" or partner because they are the home depot type.
Ruth, I am glad you asked about my move to the states. It's a really boring story but it's a big part who I am since moving here shaped me so much.
My mom is a minister. Her dream job is to preach the gospel and get paid for it. She's also an educator, that's her day job. My mother has two sister who emigrated to the states when she was very young. One those sisters, also named Nora, is a devout christian. My aunt Nora's church used to have a pastors conference every year during the month of April. In 2003, my mom received an invitation to attend the conference and my other aunt had the idea to include me on the letter. I was very involved in my church and was a minor so it was very likely I would get a visa.
Alas, the American embassy gave us an interview for a visa the week after the conference and it would not make any sense to even attend the interview. But my aunts in New York were very invested in seeing my mom in the states. They had not seen her for like 30 years so they talked to the church and they issued my mom an invitation for a different event in June that year. Our visas were approved and we came in June 2003. My mom stayed for a few months and went back to Colombia in August. I did not see her for a few years after that.
I lived with my aunt Nora for about a year and a half but we did not get along and it was hell. Then I lived with another aunt Mary for another year-ish. I moved out the winter after I turned 18 and never looked back.
It's a pretty lame story but that's the gist. The only interesting part is how I made this decision. In December 2002, my mom asked me if given the opportunity would I live in the United States with my aunt. I said yes instantly. I was in my last year of High School and I was aware there was no money for higher education. My father is completely useless and my mom was struggling to carry my sisters community college. My future after school did not look bright or promising so i was given a way out and took it. I also hated my parents, so everyone wins.
This remains to date the most important decision of my life and I made it as a child. I am not sure why this was left up to me
or who thought it was a good idea to send a teenager into the wild alone. Yes I lived with relatives but I had never met them. They did not feel like family, still don't. Being alone in this country has made me the strong independent invincible woman that I am today. But I was not always this person. I had to survive the loneliness and the abandonment. Had to figure out life, adulting, education, health, basically EVERYTHING. Alone and in a different country. I do not recommend it. I would not send my children away to have a better future.
This is getting long but to answer the rest of your questions:
Do you still keep in touch with them?
Yes, through whatsapp mostly I don't like talking on the phone so internet is better
Have you ever gone back?
I have been back once and it was interesting. (Would you like details?)
Are your closest friends with you in California? or still back in NY?
My closest friends are in NY. I am starting to make friends in California. I have made a really strong bond with one friend named Pixie. There's a friend Stephanie who I dated a while back in NYC who now lives here. She's great to have. I hope to keep growing a circle. Even though I am not sure if I am staying here.
Do you have people in your life who feel "permanent"?
No. I had one friend named Sofia who felt permanent but she decided to dump me in 2014, after six years of friendship. Bitch moved to California last December and STILL did not hit me up. That has made it really hard to trust friendships. My Best friend Iris who is in NYC is healing most of that wound and she is starting to feel permanent even though we are apart.
I hope this answers your questions Ruth. Feel free to keep asking.
I still want to hear about the "m" word though. Trace and I have discussed moving in together and agreed to revisit the idea seriously when we have been together for about a year. I saw this article in Autostraddle about the pace of relationships and how it is different for everyone and not an indicator of ANYTHING. Made me think of you and Elise who went from dating to wife-ing in less than a year.
I hope the ice has melted completely by now in Portland, and that you are finding fresh vegetables in the hipster markets you are always visiting.
Toby desperately needs a haircut, bu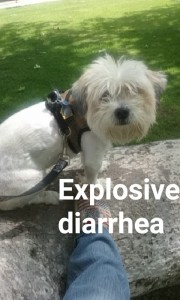 t he says hi.
Thank you for being a good friend.
Love, 
Nora