Dear Ruth:
Your last letter was so beautiful and poetic and on point. "Love withheld is love wasted" GODDAMN girl, who is you? Maya Angelou? Reminded me of how we met and why I started this with you.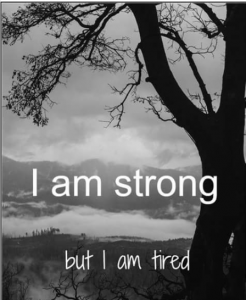 Thank you so much for being understanding and empathetic. I was having a really hard time these past two months and you have been there for me. I should start by explaining that it turned out I was physically sick. I had to seek treatment and this sickness was affecting my mental health. I thought my meds were not working anymore and went to the psychiatrist and was sent to a doctor to deal with the physical stuff. Once physical disease was over I was able to seek treatment for my depression relapse.
It seems like what I have been experiencing the last two months was burnout. Any chronic condition has a certain degree of maintenance that you must live with and it gets truly exhausting. Having to pep talk myself out of bed every morning, having to make lists of things to accomplish every day so I don't just sit on the couch and mope, having to check my mood and wonder if its real or chemical. I was done. I did not want to do any more emotional work. I was very moved when you said that healing was rest. I have always looked as healing as work. Allowing it to happen is just as effective as making it happen. I am more of a proactive person, I like to make things happen but sometimes, you cannot. Sometimes you need to let it happen instead. And that is where I am at. 
Psych gave me a new med and it's kicking it. I have started gardening again and will be making one in the front of the house. Fairy garden was neglected and flowers died (may have been the cold too). I am trying to start a dog-sitting business (link here) because I am a broke bitch. I tried taking an online drawing class but dropped out in the middle of depression. I think I want to try again. Motivation is returning and I am starting to feel like myself again.
It feels so good. I've missed myself.
2016 is a motherfucking joke and Trump is elected president.
WTF America. WTF.
I cannot believe dumbfuckistan and the millions of people who literally do not care about my existence. As an immigrant, a woman, a gay person, a brown person, a mental health advocate,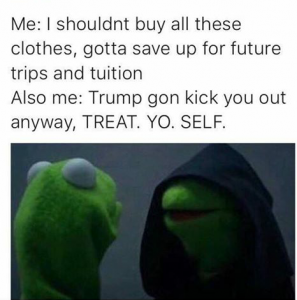 I am scared. I am not a citizen yet but my green card puts me in a safe place. I see people who are less threatened by him be more affected than me with this situation but honestly I have been here before. I lived in America undocumented for ten years. I learned to not live in fear, to trust my surroundings, to hide in the urban bubble and mix in like one more American (which I am). And this worked for me. My status was never questioned because I am educated, I speak the language (albeit with an accent), I know things. I lived in the shadows and kept a low profile and stayed out of trouble and this was my safety tent.

I do not want to return to that tent. I want to be more open I want to advocate and do activism. I wanna fight for Black Lives, women's rights, reproductive rights, gay rights, accessible healthcare, removal of mental health stigma. The Trump administration is going to be the beginning of my revolution. I just hope I can do it from Medical School.
(Side note: no news yet, two rejections so far and das all)
In terms of personal things: I am still seeing Key and Cory is back in my life. I did see her in NYC, I was WASTED. I was one drink away from alcohol poisoning. I barely remember the night but I manipulated her into coming to Queens to prove her love for me and proceeded to send her home and treat her bad. Ended up leaving with my friends at 4am (she stayed the whole time begging me to go home with her and crying) and that was the end of that. It was BBBAAADDDD drama shit that I can do without. She seemed to not have realized how serious I was until I actually left her stranded in Queens.
I enjoyed my trip and spent lots of time with my BFF Abby and my Colombian friends who talk to me on the regular. I regret nothing.
Two weeks after the trip Cory sent me an email realizing the size of her dumbassery and the multiple ways in which she fucked up. It took me a whole week to reply to her but I explained about depression and sickness and how it had affected my mood and she was not supportive or even sensible to it. She has been very apologetic and checking on me constantly now. I just don't trust it because you know, trust is an issue. I would be willing to try again if and only if she's willing to help me heal from the last disaster (Trace). As of right now, we're in limbo.
You said on your last letter that I was giving trace too much power by letting them change me for the worst. BITCH PLEASE. If I had a choice none of that drama would have touched me. But that's not how it works. And I quote Stephenie Meyer on this one "One thing I truly knew – knew it in the pit of my stomach, in the center of my bones, knew it from the crown of my head to the soles of my feet, knew it deep in my empty chest – was how love gave someone the power to break you"
When you allow yourself to love someone, you put yourself in a vulnerable position. I did and Trace did a number on me. I am healing, slowly but surely. After Trump's election they reached out "worried" about me.  We have had a few short interactions. Their guilt repulses me tbh. They hurt me, worked themselves back into my life so they could hurt me again. I stayed truth to myself, I loved to the best of my abilities, I worked on it. I did everything I could have possibly done. I am passed the point of disbelief or disappointment and I am able to appreciate the lesson. I am the best partner anyone could ever have, I am goddamn fairy, I should price myself higher.
How are you doing with results of the election? How are things with Lily?
It seems like she's the hopeless romantic type, perfect for you. I am so happy you have someone and regardless my low key judging I perfectly understand what you mean by "Life is too damn short" Why would you pass on an opportunity for love? Why skip friendship and pleasure and cuddles and cats? It would have been a dumb move.
I was worried about you getting lost in the sauce and moving in with her next month. But I decided to trust your common sense on this one and that if you threatened to move in with her any time in the next year I will personally show up in Portland with an army and prevent it. TAKE YOUR TIME.
I think you spent the most time being single since your break up with K and had great experiences dating multiple people and yourself. At the end of the day you are a monogamous woman (boring…) and want to settle in with one partner. Sounds like Lily is a good partner to you and I hope she continues to be. I am interested on how things are different after Elise and how YOU are different.
Thank you for being a good friend and loving yourself first.
Happy Belated Birthday!!! I need pictures. 
Love,
Nora
PS: I am on OKC and talking to a few ladies, hopefully going on a date soon. I need pussy in my life.