Dear Nora,
I'm here, I'm here! I've been too busy for my own good. I need to stop doing that. The past month has been filled with visitors and Pride stuff and re-doing my apartment and talks with friends and extra work stuff and spending time outside in the lovely Portland summer. But I am here.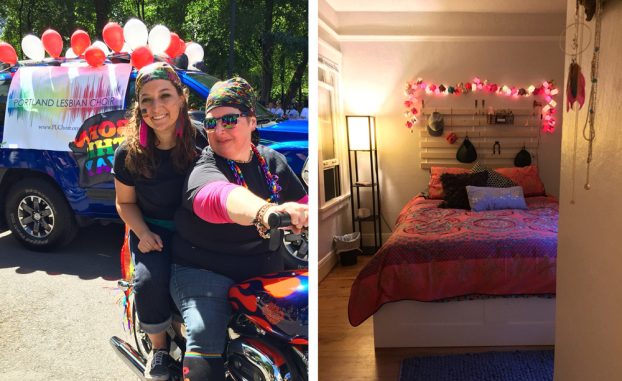 I am super jealous of your awesome roadtrip! We live on such a beautiful planet, I loved seeing your pics. I have kind of a joke with friends that when I'm overwhelmed by the natural beauty of a place I get almost angry. Not actually angry, but just… I almost can't stand it. I want to capture it, and keep it, and bask in it. But there it stays, and all I can do is admire it and scream about how pretty it is and take pathetic iPhone pics and move along with my life. Needless to say, it's been a problem ever since moving to the PNW. I enjoyed some outdoors while camping this weekend.
I'm so, so glad you took that time (and money) for yourself. You deserve it! (Also, you deserve new manipulation-free heels… I found some online coupons for you.) Can I just say how proud I am of you for creating the space you need from Trace? Games with feelings suck ass. It seems like you're doing a really good job of being deliberate about taking care of yourself. Going to therapy, thinking through the "whys" of everything that happened, and setting intentions for yourself, and surrounding yourself with good friends.
I want to hear more about Cory. In your previous letter you mentioned you find her condescending. That was pre-roadtrip/visit together and I'm curious if she still seems that way after spending more in-person time together? Also, it makes me really happy to hear that it's a connection not based on anything you "offer", but simply you just being you, and her recognizing your worth. Yay for mutual feelings!! Do you think it might go anywhere? Do you want it to? Also how can you stand being in love with someone and not be completely consumed by it? Teach me how.
Today is independence day, and I am celebrating it this evening by myself, in my apartment with the windows open and candles glowing. And instead of fireworks, I burned some sage and "smudged" my space to clear out negative energy. I don't know what I believe about that stuff, but if nothing else, the ritual brought me comfort and it felt cleansing… so there's that.
I've reach two conclusions over the past month: I've decided it's about goddamn time for me to stop wishing that I was something I'm not, and I NEED to stop apologizing for who I am and what I need.
You were so very right in your assessment—that I am a hopeless romantic always seeking The One, in love with love. Optimistic, devoted, forgiving. Sometimes I am kind of ashamed of it. I wanted to try to deny that, to defend the parts of me that are "realistic" and "logical". I want to act as though I don't want the things that I really want, and convince the world that I'm not just some silly, naïve girl looking for "princess charming". Elise said as much, that she's dated more than me, that she has "seen what's out there", and that at some point you just find a pretty good fit and the rest is just hard work.
I know she's probably right. I know everyone is probably right and I am foolish and dreaming of fairytales and what I seek isn't real life. But none of that stops me from wanting it. And I'm not ready to give up on the hope that it exists for me.
I've come to realize in dating, we are all completely sucked in by different aspects of a relationship. For Elise, it was that initial connection and spark. For my sister, it's the intellectual attraction of two minds. For another friend, it's an intense physical chemistry. For another, it's the mystery and intrigue of discovering all of another person. For me? I really do love being in love. I love absolutely adoring someone else, and having them feel that completely, and feeling loved and adored in return. That is my crack. And while I'm sure there's some perfectly reasonable scientific explanation for these feelings, to me it feels like nothing short of a miracle.
There was a fog that lifted, when we ended things. And I had an actual moment where suddenly I could see myself, feel myself, and inhabit my body once again and I laughed out loud and said "oh, HERE I am.. I love this person!" I then proceeded to give myself a good talkin-to about how great I am and how much I love me. I had been so tangled up in anxiety and trying "make it work" and thinking what I could do to please her, that I lost sight of myself in the relationship. This is something I will be tackling with my therapist (did I tell you I am going to therapy, too?) I am quick to give up things for people I love, especially for the woman I fall in love with. Way too readily I give up both large and small things (ranging from food choices, to pets/kid/marriage prospects, from TV shows to daily schedules to place where we live), and make concessions for just about all of it to the point where I become just a sum of their wants. Elise called it martyrdom. But it's not from a place of trying to make a show of giving stuff up. It's just… it's just how I am. I don't think of it as a weakness, but rather, I think these "faults" are products of my strengths, I just need to learn to wield them in a way that's healthier for me… in a way that doesn't cause me to drown out myself.
Recently for work, as a team-building exercise we took these personality tests called strengths finder, and my top categories were Empathy (feel what others are feeling), Relator (develop deep and genuine relationships), Harmony (bring others together), Developer (see potential in others), Maximizer (encourage talents and strengths in order for others to 'be their best'). While many people in my team had strengths like learning, achieving, deliberating, analyzing, communicating, ideation, thinking futuristically or strategically…etc., all of my traits just had more to do with relationship building than anything else, and building others and myself, up.
That is who I am. I am someone who believes in others, and myself, cares about and relates to them, and wants to all work together in peace and harmony towards our best individual potentials. It's some hippy dippy shit and I fucking love it.
Elise used to refer to me as "Gandhi" or "Mother Teresa" or sometimes "Jesus". She would jokingly ask me to show her my scar-free hands, just to confirm that I'm not the Messiah. Of course she meant it all as a joke. But it was honestly an issue in my last relationship as well. I hear things like "you're too good for me" and groan. This sort of pedestal has been something I've experienced my whole life. Ruth. My name literally means compassion. It sounds like a good thing… and while it does have some perks, no one wants to be seen as a saint. Saints are boring and not fun at all. They are "holier-than-thou" and goodie two-shoes. And I am none of those things. I am fun and sarcastic and nonjudgmental and I can be a moody asshole and I am better than no one. But I am kind. I am concerned for others. I am giving, to a fault. I feel what others are feeling and I am moved by it. I don't know how to be any other way. I think you can be all those things.
Those are my gifts. This is my light. I can either love it and shine it as it is, or be ashamed and try to hide it. I can either spend my life wishing I was a different way than I am, or I can embrace it. And fill my life with people who love and value these things about me.
Tonight I had a couple of invites to join in on 4th of July festivities. I was tired from camping and being around people a lot, and all I wanted was to stay home, take a bath, write you a letter and smudge my apartment. I took some grief for telling people I just wanted alone time tonight. My first instinct was to apologize for wanting alone time. I feared they'd think I was lame and they wouldn't understand, and that they'd stop inviting me to things or feel sorry for me. Some of those things may have crossed their minds. But you know what? It doesn't matter. I didn't apologize, because I shouldn't have to apologize for taking care of my own needs and doing what I like. I shouldn't have to explain it. And if someone doesn't "get it" or accept me, then they probably aren't worth my time and aren't a friend I really need.
I need to stop apologizing for who I am. I am an introvert, I need alone time. I am kind, and I like that about myself. It doesn't mean I'm a goddamn saint. I believe in the love of soulmates, living life side-by-side, and I still hope to find it. I am a good thing. I have a lot of love to give. I see the best. I am what I am what I am.
I am energized being alone, and am venturing into the forever alone chapter with a desire to love and take care of myself better. And to make the most of this time, undistracted by couplehood. So that someday IF that person comes along, I'll know better how to balance my needs with theirs, and no more of this "losing myself" bullshit. I turn 30 in November, and my intention is to not seek out anything serious for the remaining months of my 20s at the very least. I feel the most myself when I'm alone, it makes my soul stir. And based on previous experience, I don't know how to be anything but serious when it comes to love interests… so perhaps that will necessitate no dating at all. Right now that feels completely doable… but doesn't it always, until you meet someone who you "can't live without"? I would be pretty content right now "whoring out" as you called it, but I seem to suck at that because I get a whole mess of feelings when I connect physically with someone.
Updates next time on project "fall out of love" and the effort to transition from dating to friends with Elise. Also, miniature elephant sanctuary.
Love, Ruth
P.S. This is the longest letter ever. I think we can count it as two.
P.P.S. I was about to apologize for all of my rants about refusing to apologize for who I am in this letter. But I'm not going to.
P.P.P.S. YES! Cory and AJ can stay with me! I agree that would be so epic. My place isn't big but I think we could make it work. When?? Send me details via email.