Dear Ruth, 
I am so incredibly sorry about your break up with Elise. I know how attached to each other you two are. Plus the fact that you lived together is such pain and now someone has to move out. I am so very proud of you for listening to your gut and going with it this time. It shows growth, it shows self trust. 
I am not sure where in your mourning process you are right now but I wonder how long before the break up you knew it was inevitable and the reasons why it came on. I need details girl. The devil is in the details. 
You definitely need an escape to Los Angeles and I can really use the company because guess what? Trace and I broke up. My pansexual polyamorous ass has joined the forever alone club and I am frustrated and heart broken and destroyed and beyond sadness. I am just sitting in the darkness of my lonely room thinking about the games life plays on me and hating myself for not running on time. 
I have known for at least three weeks that it was over. I knew when I told them that I was in love with them and they confirmed they were not any where near falling in love with me. I mentioned that I was worried that they were with me only buying time to be with someone they could fall in love with. Their response was: "What happens then?". This was the stab. This confirmed my suspicions. I was a past time until the "real deal" came around or they just got over me. And they did.
We had not had sex in an incredibly long time, and we had been spending less and less time together. I worked so hard to gain their affection. I wanted to believe that sweet words and acts of kindness and good morning texts would do the trick. But no. It was all a figment of my imagination and I am back in square one holding my broken heart and wondering where to put it next to keep it safe. 
I don't resent them as much as I would want to. I know they cannot force themselves to be in love with someone. And I am trying to forgive myself for letting this person break my heart TWICE. This is our second break up. The conversation I mentioned above happened on May 1st. That was our very first date last year, May 1st. I knew then that if they had known me for one whole year and they were not in love with me, it just was not going to happen. 
If there's something that does not fail me is my intuition. I mourn things and people before the fall out happens. I see it coming and I want to deny it and I look the other way but oh I know is coming. Sometimes its a tsunami. One giant wave that destroys everything at once. This time it was a storm. A snow storm that slowly, quietly and beautifully burrowed my soul, cut off my power, isolated me and starved me. 
Trace wants to be friends. I said no. They asked why I had stayed friends with other people I dated, like Jayne and they could not. My answer was because I am not in love with my friends. And I stand by that. I want to purge my life of all the places and people and things that remind me of Trace. I don't want to see or hear their name ever again. They do not get to be my friend. 
Friendship is a powerful force of salvation.
Friendship, in my humble opinion, is the only true love. My friends are my family. I am my best (and my worst) with my friends. Trace does not get to be my friend, they don't get to keep the best of me after breaking my heart. They don't get to string me along for a year to then realize it's really not me. YOU KNEW IT WASN'T ME BITCH WHY THE FUCK WOULD YOU START DATING ME AGAIN. Whether they meant to or not it's beyond the point. I am in pain and they are enjoying their freedom. 
GET THE FUCK OUT OF MY LIFE!
This happened yesterday so the wound is pretty raw. But again, the stab happened weeks ago and I have been patching it up and hiding the blood spill. It's clearly infected and I am using writing as my antibiotic. Letting all the pus out before my hearts gets gangrene and I need to amputate it. 
I have been making a garden for the fairies in my back yard. Here's a picture of it.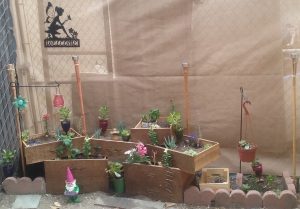 I am  sorry I cannot offer more support or more hopeful words. But my own pain is all I have.
Thank you being a friend.
Love,
Nora