Dear Nora,
It feels like a strange dream now that I spent a couple of days with you. Like, I'm not quite positive it was real life. Fortunately I have proof in form of photos and souvenirs. Thank you for welcoming me into your real life world, even if I could only be there for a moment. Dancing salsa (or at least my best attempt), eating breakfast with you and your friends, singing along with Jayne playing the ukulele, laying on the beach with you and Princess and Key. Scratching Toby's belly and seeing your current knitting projects and helping you with the fairy garden. Snuggling and watching Friends, as though it were just an ordinary thing for us to do on any 'ole weekend.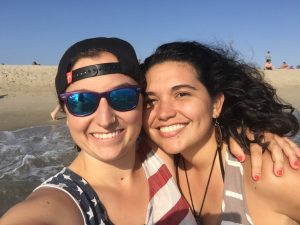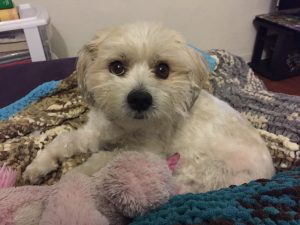 You are special to me, Nora. That's why I teared up, a few minutes before I left you (I warned you I'm a big cry baby!). I just love you, and think you're wonderful, and want you to have all the good things in life. That's what I was thinking in that moment, but did not say out loud.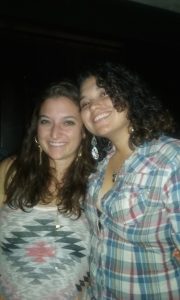 In only a short 3.5 months or so since becoming single, I feel like there have been huge shifts happening within myself.
Being untethered is glorious. I feel bigger, I feel whole, I feel like I'm getting to truly know myself in a new way. Life feels richer.
Do you know what I mean? It's like, food tastes more flavorful, and the scenery looks more beautiful—summer has been good to me. I've been trying new things, going new places, revisiting assumptions.
The best part of all, other than strengthening my relationship with myself, has been enriching other relationships in my life. I've been carving out more time for existing friends—and able to invest more into new and growing friendships. I feel like, for the first time since moving to Portland, I am actually seeing some of the roots sprouting from the seeds I've planted and finding my people.
Part of my internal shifting also has been falling out of love with Elise. I told you a little about that this weekend. But I am happy to report here that I am no longer in love with her! Woohoo!!! I know it happened gradually, but honestly… it was like I woke up one morning and all those feelings were gone (albeit after good talks with friends, internal processing, time and space, dating new people…etc.). I can see pics and feel no jealousy, I can see her in person and feel in complete possession of myself and my feelings. I love and care about her, yes. But the "in love" feelings are gone, rose colored glasses are removed and compulsion to please her dismantled. I'm not quite ready to be her friend though, and she asks when I will be ready. The truthful answer is, I don't know. And I don't have to know right now.
I am 2 months out from my 30th birthday, and doing my (mostly) best to stay on track with being single for the remainder of my 20s. I spent almost a month dating multiple ladies. It was really fun initially. I felt free, and I was having fun sex and cute dates. But within a few weeks, the feelings started to get all up in my business. I was consistently dating two very cool girls, Hannah and Sam. Hannah is total introvert, cutie pie, sweetheart. Artistic and nerdy and a midwestern gal like me who loves cats and bakes and does design and went to a christian college like I did. Essentially, it was a bit like dating myself. Which, I'll admit, I liked much more than I expected. I'm not used to dating anyone quieter than me! Or more thoughtful than me. I was totally getting some feels for her… and I could see she was getting them for me as well. 
Sam is a very cute, charming, and nerdy mischief-maker who is a sarcastic smartass with a heart of gold. She talks quite a bit and wears all her feels on her sleeve and sometimes reminds me of a frazzled professor in the most endearing way possible. She seems to have her heart in the right place and her head on straight. We have extremely different backgrounds in every way… she's an only child, raised mostly just by her mom on the liberal west coast, and jewish, as opposed to me… big family, conservative midwest, christian as fuck. I like that we are different, but somehow seemed to have arrived at a lot of the same conclusions and values. I very quickly developed a crush on her, and she on me.
All of that sounds well and good. But I was getting more and more stressed out. And even though both of them knew I was dating other people/someone else, I still started to feel perplexed trying to juggle all of the developing feelings and managing my time and energy spent with both of them. It was draining me and ultimately I concluded I just couldn't handle continuously dating two people. I didn't want to necessarily be exclusive with either of them, but I knew I couldn't keep up pursuing them both without driving myself into the ground and causing someone pain in the end. 
I'd like to say the solution was very apparent to me, but it was not. I was surprisingly torn after only this short time (yet another sign that I needed to make a decision before any attachments grew). Ultimately I just tried to follow my gut and pursue the best fit for where I'm currently at… and I ended things with Hannah, and still am continuing to see Sam. I believe it was the right call for me…but I think about things like "I picked the girl who's more traditionally 'my type' (extrovert, funny…etc.), is that good or bad or just the reality of life/attraction?" "Is there a legitimate reason why I wouldn't want to be with someone so similar to myself?" "Can I keep feelings and sex separate?" I'm still working on those answers. 
Going forward, my focus right now is dating someone while also being deliberate about meeting my own needs and not giving up my things for someone else. Not being her girlfriend, not even being exclusive (aka "the good wife") … that role is so comfortable for me… I need some more time outside of it still, I feel that. It's a push and pull. She wants things, she hopes for things. I like her and per my usual—I feel compelled to people please. But as much as she wants attention, she also seems on board with me doing me (which she damn well better be!), and doesn't push my boundaries in an unhealthy manner. 
As we move forward, I'm just doing my best to keep in touch with my own needs. I think possibly at some point it could mean not dating at all again. I've been feeling an itch for that this week and I'm not quite sure why. I'm trying to avoid making knee-jerk reactions based on feelings, while still listening to my gut. 
Something that's been on my mind since leaving you has been being comfortable with imperfections. I really enjoyed some of the conversations we had. Even small things that you pointed out—like how I always use recipes all the time when I cook, but if I'd like to learn to cook without needing that, being willing to wing it and try recreating things I've made before is a good way to start. Even though it might not always turn out, I will learn from it! I loved how you said your favorite part of your fairy garden was that it exists. It's not the ultimate Pinterest version, but it's real and it's growing and it brings you joy. But I think the thing I appreciated the most was when you were talking about everyone's obsession with having "no regrets". And how you've accepted that it's ok to have regrets. I have so little patience or compassion for myself when it comes to imperfections. I regret some things from my relationship with Elise. Not that I would have done differently, not that it wasn't something I needed to learn from or go through.
Some of my decisions are imperfect parts of me.
But they're parts of me, nonetheless, and I need to love and accept them too. I'm someone, who when I say or do something that feels out of line with my beliefs I protest "that's not who I am, that's not me!" But that's just the thing, those parts ARE me. I can't only claim the good things. I am not actually me without my imperfections, regrets, mistakes.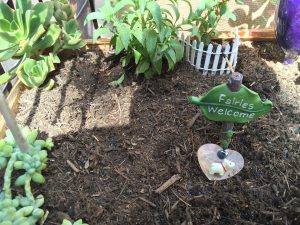 I'm not sure if that's making much sense or not. All that to say, thanks for the talks and the time spent. I hope it's not another five years until I see your face again. But in the meantime, thank you for writing and being a good friend. 
How have things been this week? How are your dates and baes? Have you been out looking for some new good friends, or taking some needed "me" time? Any updates on medical school applications/interviews? 
Love, Ruth
P.S. I love that now I'll hear your accent when I read your letters!!!